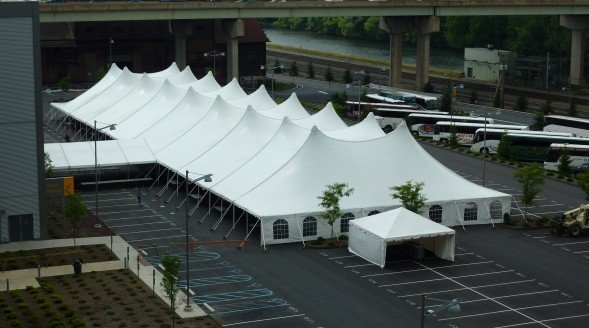 We offer equipment for special events including tables, frame tents, pole tent, clearspan structures, stages, flooring and so much more, along with expertise and creativity so your festival or concert is the best ever.
Frame Tents are free-standing tents with no center poles.  They work well for street festivals where staking may not be permitted.  Sidewalls protect against inclement weather.
Pole Tents are in a variety of sizes and well suited for church festivals or other community festivals, held in open fields attended by large numbers of people.
Clearspan Structures are perfect for concerts and very large gatherings, held for one or two days, or a week or more.   They offer wide-open space for people, food, and events, without poles to block interior views or exterior guide wires that may cause falls.  Sidewalls and double entry doors complete an outdoor venue.  Staging, lighting, and chair layouts that will seats hundreds or thousands can be accommodated under Clearspan structures.  Multi-level and serpentine table arrays that enhance food or product displays facilitate moving people.  Our experienced professions can advise on generators, chair set up, and so much more.  CAD drawings permit review in advance.
Setting the stage for a musical event?  Special Events has stages and lighting, and we'll work with your sound professions.  Tent heating or air-conditioning (HVAC) handles excessive heat or cold.  Quite generators provide electricity where there are no other options.   WE WORK WITH YOU, and UPON REQUEST, WE WILL BE THERE FOR YOUR EVENT.